Event
NORDIC FINTECH SUMMIT 2023
Event details
Date
11.05.2023
Time
08:00 - 19:00
NORDIC'S PREMIER FINTECH FEST
Next spring's biggest finance and fintech LIVE event in the Nordics
2 stages, +40 international speakers
Latest insights and knowledge in just 1 day
Strategy & Business
Financing, Payments & Commerce
Banking Technology
ESG & Impact
+500 decision-makers from the Nordics
+25 financial technology exhibitors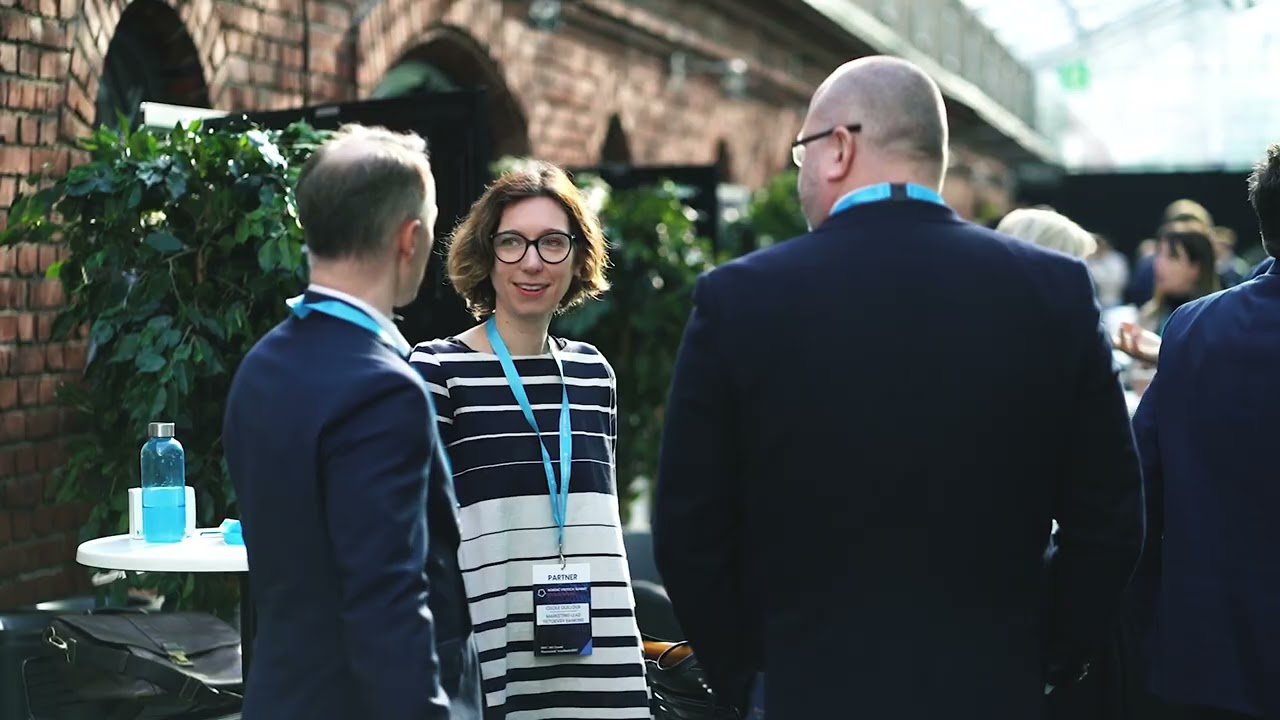 Petri Nikkilä
ING
Head Of Retail Banking Belgium, Netherlands and Luxembourg
Dr. Tamaz Georgadze
Raisin DS
CEO & Co-founder
Tamaz Georgadze, Raisin co-founder and co-CEO of Raisin DS, is focused on partner bank acquisition, business development, and legal and regional expansion efforts. Prior to building and scaling Europe's leading marketplace for deposit-insured savings products and investments, Tamaz spent ten years with McKinsey & Co., the last three as a Principal leading McKinsey's Savings and Investment products service line for EMEA countries, serving some of the largest retail, universal and wholesale banks in Europe and Asia. His core areas of expertise were performance management/organization, deposit gathering, direct banking, branch transformation, SME strategy and regulation. He holds a PhD in agricultural economics and honors law degree from the University of Giessen as well as an international economics degree from Tbilisi State University.
Julie Chatterjee
SweepBank
Tribe CEO
Julie Chatterjee serves since 2020 as CCO & Deputy CEO of Ferratum Bank plc. She holds a Master of Engineering from Kungliga Tekniska Högskolan in Stockholm from where she graduated in 2007. Julie holds 16 years of experience within the retail & banking industry. She has hands-on experience from consumer lending, credit card and the insurance business with an exposure to e-banking and mobile banking, while holding numerous positions at OKQ8, including CEO for OKQ8 Bank.
Samu Slotte
Danske Bank
Global Head of Sustainable Finance
Samu Slotte is global head of sustainable finance at Danske Bank, with the overall responsibility for ESG integration in Danske Bank's Large Corporates and Institutions unit. His responsibilities include both integration of ESG risk assessment in the lending portfolios as well as supporting the bank's clients in their transition to more sustainable business models via green and sustainable finance. Before his current role, Samu spent more than 20 years in debt capital markets origination as well as funding, asset and liability management and risk management. He holds a M.Sc. in economics from Åbo Akademi University in Finland and graduated in 2019 with a B.Sc. in biological and environmental sciences from University of Helsinki.
Kadri Kiisel
LHV
Chairman of the Management Board
Steve Robson
Citi
Head of Spring by Citi EMEA
Steve leads Spring by Citi in EMEA, a new ecommerce collections solution within Treasury and Trade Solutions at Citi. Prior to this role he was the EMEA Head of TTS Commercial Cards and the EMEA Head of Business Development working on alliances and partnerships. Steve has 20+ years' experience of financial services and product management in the UK and France. He previously worked for Barclays on the cash management side and then Barclaycard in both card acquiring and commercial card issuing.
Aleksi Lehtonen
Nordea
Head of Business Banking Finland & Country Senior Executive
Anna-Mari Valkila
OP Financial Group
SVP HR, OP Development & Technologies
Anna-Mari Valkila is a HR leader at OP Financial Group. She started at OP in 2018 and is currently heading OP Development & Technologies HR. She has been working with finance and technology professionals and their development and learning for several years. Before OP she worked at TietoEvry.
Thorbjørn Fink
Pleo
COO
Thorbjørn Fink is the COO of Pleo.io, a company seeking to automate the processes around business spending – empowering employees to spend company money, while maintaining control and oversight in the finance department. Outside of Pleo, Thorbjørn advises VC/PE funds on FinTech and payments related topics, and is an active angel investor in startups in Europe and US, primarily focused on FinTech and software platforms.
Vladislavs Mironovs
Citadele
Chief Strategy & Business Development Officer, Member of the Management Board
Ville Sointu
Nordea
Head of Emerging Technologies
Ville Sointu leads Nordea's emerging technologies research and development team. He has over sixteen years of experience in digital financial services and has held several key positions worldwide in financial and connected devices industries. Ville is currently a member of European Commission's Blockchain Observatory use cases and transition scenarios working group, European Banking Federation Blockchain Task Force and EBA cryptotechnologies working group. Co-host of the Fintech Daydreaming podcast.
Vilve Vene
Tuum
CEO & Co-Founder
Vilve Vene is the CEO and Co-Founder of Tuum (formerly known as Modularbank), a core banking technology provider that enables a gradual digital transformation of businesses as well as a rapid rollout of new financial services – for banks, fintechs and non-financial companies.
Vene is an Estonian financial IT pioneer, with 30 years of experience in the banking industry. Modernising financial services is what she knows best: Building a digital bank from scratch in the 90s (Hansapank; acquired by Swedbank); digitising over 15 banks and financial institutions in the Nordics with her first technology company Icefire (acquired by Checkout.com in 2021); and acting as one of the masterminds behind the Estonian e-tax system – the most efficient tax office in the world. In 2019, she co-founded Tuum, putting the decades of experience in building core banking systems into a product.
Jarkko Mäensivu
Saldo Bank
CEO
Jarkko has 10 years of working history in commercial lending & capital finance business at GE, holding various leadership positions like Commercial Director France & Nordics & Managing director for Finland. Last 2 years prior to Saldo, he was the business leader & MD for Wells Fargo in the Nordic region.
Jarkko joined Saldo Finance in early 2018 to transform a domestic fintech business into an international digital bank. As a result of the transformation & new strategy, Saldo today operates in multiple countries with a wide product suite offering solutions in consumer, commercial and service segments. Core differentiators of the company are Saldo's fully automated effortless customer solutions combined with our proprietary analytics & scoring systems. Saldo's banking operations and several new products will be launched during 2022. 
Niklas Apellund
Enfuce
CTO & Co-Founder
Tanya Slavova
Aiia, a Mastercard company
Director of Fintech & SMBs
Tanya Slavova is the Director of FIntech & SMBs at the European open banking platform, Aiia, a Mastercard company. Tanya has formerly worked within Trustpilot and Momondo in various positions and holds an extensive talent to spot emerging innovative solutions with open banking.
Today Tanya heads up Aiia's fintech collaborations exploring the next innovative use cases of open banking and open finance with front-running entrepreneurial fintech companies defining the future of finance.
Aiia empowers a wide range of financial institutions and fintechs with a full product-fleet of open banking services, ranging from payments and data to PSD2 compliance and more. Among the collaborations Aiia works closely with on the fintech and SMB side is Lunar, Pleo, Subaio, Visma e-conomic and others which are implementing open banking at scale to millions of consumers and businesses across Europe.
Marc N. Mettler
3rd-eyes analytics
Head Business Development
Tricia Balfe
XMLdation
CEO
Mattias Fras
Nordea
Group Head of AI Hub
Mattias is heading the AI Hub at Nordea. He has more than 20 years of experience from working with large corporate transformations in the Nordics. He spent his first 13 years in management consulting spanning across many industries. After that he joined Nordea Life & Pension Sweden as a CFO for a few years before going back to driving transformation again driving new technology change initiatives such as software robotics, virtual agents and machine learning / deep learning. In his current role he is focusing on building data-driven organisation using AI-related technologies.
Jacky Uys
Mambu
Solutions Engineer
Atso Andersen
CGI
Lead Consultant
Jacob Segercrantz
Klarna
Country Manager, Finland
Jacob Segercrantz, Country Lead Finland at Klarna with a 15 year experience from the financial industry. Jacob has experience from both the payments start-up scene, a traditional Nordic bank and now Klarna, the leading global payments provider and shopping platform, one of the most highly valued private fintechs globally.
Hanna-Mari Manninen
Dittmar & Indrenius
Partner, Head of Corporate Advisory, Compliance & Sustainability
Vincent Weir
Invenio Growth
Partner
Fredrik Ulvenholm
Vilja
CEO
Fredrik Ulvenholm is CEO of the fast-growing Swedish fintech company Vilja offering cloud-native core banking solutions. With over 20 years of experience from the international fintech scene Fredrik has gather invaluable insights and experience on how to leverage latest technology to create superior customer values. Before joining Vilja in 2017, Fredrik played a vital role as CTO at Emric (acquired by TietoEvry), growing their business from four employees to over 300 employees.
Jaakko Vilen
nCino
RVP Nordics
Premkumar Bhagwatsaran
Aura Cloud
CEO & Co-founder
Maciej Sałata
Comarch
Director, Corporate and SME Digital Banking
Jukka Dhawan
Taaleri
CIO
Jukka is the CIO at Taaleri and has 20 years of experience in various roles and positions in the IT industry, out of which 10+ years in the financial sector. Previously he has been working for employers such as IBM, Arrow ECS, FIM and S-Pankki. Jukka is passionate on delivering IT services that create opportunities instead of limitations for the business. His so far greatest accomplishment has been the digital transformation cloud journey that he has guided Taaleri through.
Antti Rajala
Secure Cloud
CEO
Antti is the CEO of Secure Cloud offering identity-based cyber security services for businesses using cloud services and having high requirements for security. With over 20 year of experience in several ICT-related service businesses, Antti has adopted a people centric approach to innovations and broad experience of technology as a business driver. At Secure Cloud Antti & the team has helped several financial institutions to successfully comply with all requirements in the industry, and still benefit from all the new innovative cloud solutions & services available. Before joining Secure Cloud Antti worked at Telia in several service business creation projects like at Cygate and at Helpson.
John Erik Setsaas
Signicat
VP of Identity and Innovation
With over 25 years' experience in digital identity, John Erik Setsaas is a pioneer in this space. He is a prolific speaker at fintech industry events around the world including Money20/20 Europe, Digital Finance World. Mobile World Congress, Trustech, EiC and FinTech Connect. He is currently VP of Identity and Innovation at Signicat AS. Before joining Signicat, John Erik was Chief Development Architect for SAP Identity Management and taught ecommerce, identity services and security at Buskerud University College in Norway. He is a board member of the EEMA, Europe's leading digital identity think tank, and has received the EEMA Lifetime Achievement Award.
Ilkka Korkiakoski
Tietoevry
Head of Payments
Alex Kuznetsov
OneSpan
Solution Specialist EMEA
Alex Kuznetsov leads OneSpan's initiatives in providing mobile authentication and application security solutions and consultancy about emerging threats, regulatory directives, and advanced technologies. As an expert in banking cyber security his professional interests include collecting intelligence about mobile app vulnerabilities, data breaches and financial fraud. Having been in the field for 16 years, actively
working with several leading banks on best practices in risk and security management, he focuses on helping organizations to improve their cybercrime programs to convert them into business enablers.
Juha Ahlroos
Seita Technologies
Director
Juha has been working with Fintech and payment landscape for nearly two decades. He has vast experience of Cash Management, Merchant Acquiring, payment terminals, payment systems, and partner sales. Working in many well-known Fintech companies such as Nordea, Nets, Bambora in various roles has increased his passion and focus on solution selling. Presently Juha is in charge of the Sales at Seita Technologies Oy. SEITATECH is a Finnish card payment and software development service provider operating in territory of Nordic and Baltic countries. SEITATECH is specialized in electronic payment systems and the implementation of future payment technologies.
Seweryn Bak
Comarch
Business Development Director
Seweryn has over 10+ years of banking experience in Citi and HSBC. He is experienced in building relationships across multiple global geographies requiring sophisticated financial solutions for traditional and digital companies in Citi Digital. His experience and IT knowledge allow to offer solutions and IT services for banks, insurers, brokerage houses, asset management companies, investment, pension funds and fintechs. At Comarch (est. 1993), Seweryn is responsible for business development strategy and building relations with financial institutions in the Nordics.
Jussi Mekkonen
Tietoevry Banking
Head of Market Advisory
Erik Bennerhult
Näktergal Financial Technology
CEO & Co-Founder
Erik Bennerhult has been instrumental in making Näktergal what it is today. As CEO and Co-founder, he has a unique understanding of both the technical aspects of Näktergal, as well as the business aspects.
With 20 years of experience in banking, he started Näktergal to make mortgages more affordable and accessible for consumers. Näktergal is the Nordic FinTech propelling the mortgage industry into the age of the cloud. Erik has a proven record in building cutting-edge banking systems, digitalisation and lending. Previously, he was CIO at Avida and has built banking systems handling billions of Euros.
Joonas Tomperi
Enable Banking
CEO & Co-Founder
Over 10 years of Experience in the API economy, data management, mobile development, and ERP systems.
Leading Enable Banking, which is the premier neutral connectivity provider. It offers connections to banks across Europe without ever
interfering with their clients' data or business model.
Aleksi Grym
Head of Fintech
Head of Fintech
Aleksi is a central bank economist, adviser, and former entrepreneur with two decades of experience in technology, startups and international business.
Sami Karhunen
Pine&Cone
CEO & Co-Founder
Sami in a payment industry expert with previous experience from Nets, Payment Highway and OP Financial Group. Currently he's working on Request to Pay services at Pine&Cone.
Tapio Vailahti
Tietoevry
Head of Innovation & Development and coHead of Customers & Projects, Card Production and Personalization
Tanuj Pasupuleti
Bankify
CEO
Tanuj Pasupuleti is the current CEO of Bankify Oy with over a decade of experience as a Finance Executive in Consumer and Retail Banking. Founder and held Board positions in various growth startups and is passionate about Sustainability, Customer Engagement, and Consumer Behavior.
Vilja is a leading provider of cloud-native core banking platforms. The banking platform covers the entire lifecycle of lending and savings operations in one system. It has the shortest time-to-market for launching new products and services. This enables banks and credit institutions to quickly and easily launch new revenue streams while focusing on creating the best banking experience for their customers. More information at viljasolutions.com
OneSpan helps protect the world from digital fraud by establishing trust in people's identities, the devices they use and the transactions they execute. OneSpan's security solutions significantly reduce digital transaction fraud and enable regulatory compliance for more than half of the top 100 global banks and thousands of financial institutions around the world. Whether automating agreements with identity verification and e-signatures, reducing fraud using advanced analytics, or transparently securing financial transactions, OneSpan helps lower costs and accelerate customer acquisition while improving the user experience. Learn more at onespan.com.
Founded in 1993 in Kraków, Poland, Comarch provides itself on being one of the leading software houses in Europe with over 6000 employees worldwide and thousands of successful projects carried out for the largest international brands. Over 20 years' experience in the industry, Comarch Financial Services, a business sector within the Comarch Capital Group, specializes in developing sophisticated software and IT systems for major financial institutions in banking, insurance and capital markets. Our expertise has gained worldwide recognition and a significant portfolio of clients among insurers, banks, mutual and pension funds, brokerage houses and asset management companies in more than 30 countries. Our client list includes BNP Paribas, Société Générale, Ergo, NBB, Oney, Nedbank, Allianz, and more.
3rd-eyes analytics pioneers the hyper-personalisation in wealth management, enabling financial institutions to improve, automate, and interactively visualise wealth planning and investment advice. With our modular SaaS and API solutions, we empower banks, insurance companies, asset managers and intermediaries to provide goal-based, individual, realistic, and sustainable investment advice.  Our solutions incorporate climate change scenarios, calculating the impact of rising temperatures on wealth development and personal goal achievement, while simultaneously ensuring that investors' preferences are met beyond their ESG expectations. More information at www.3rd-eyes.com.
nCino (NASDAQ: NCNO) is the worldwide leader in cloud banking. The nCino Bank Operating System® empowers financial institutions with scalable technology to help them achieve revenue growth, greater efficiency, cost savings and regulatory compliance. In a digital-first world, nCino's single digital platform enhances the employee and client experience to enable financial institutions to more effectively onboard new clients, make loans and manage the entire loan life cycle, and open deposit and other accounts across lines of business and channels. Transforming how financial institutions operate through innovation, reputation and speed, nCino works with more than 1,100 financial institutions globally, whose assets range in size from $30 million to more than $2 trillion. For more information, visit: www.ncino.com
Thought Machine was founded in 2014 with a mission to enable banks to deploy modern systems and move away from the legacy IT platforms that plague the banking industry. We do this through our cloud native core banking platform, Vault. This next generation system has been written from scratch as an entirely cloud native platform. It does not contain a single line of code which is legacy, or pre-cloud. We are currently a team of more than 500 people spread across offices in London, New York, Singapore, Sydney, and Melbourne, and have raised more than $340m in funding at a $1bn+ valuation.
Mambu is the world's only true SaaS cloud banking platform. Launched in 2011, Mambu fast-tracks the design and build of nearly any type of financial offering for banks of all sizes, lenders, fintechs, retailers, telcos and more. Our unique composable approach means that independent components, systems and connectors can be assembled in any configuration to meet business needs and end user demands. Mambu has 800 employees that support 200 customers in over 65 countries – including N26, BancoEstado, OakNorth, Raiffeisen Bank, ABN AMRO, Bank Islam and Orange Bank.
Secure Cloud offeris identity-based cyber security services for businesses using cloud and having high requirements for security. We help businesses with the industry specific requirements while benefiting from all the innovative cloud solutions & services available. Our cloud based services cover IAM, Customer IAM, Cloud based SOC etc with all the "bells and whistles" needed. Our consultants help you in finding just the right steps for you and for your business, whether technology transformation, process improvement or people training. Because in cyber security it's the whole that counts.
Signicat is the leading provider of digital identity solutions in Europe. Our mission is to build technology for people to trust each other in a digital world. We bring trust to identity claims in every step of the customer journey from onboarding to offboarding.
XMLdation solutions are designed for banks and payment system operators. We deliver self-service testing and legacy bridge solutions that streamline on-boarding, and help banks, payment system operators and their stakeholders to roll out new payment schemes such as P27 – faster and easier. Our products are "born in the cloud" and natively support ISO 20022, open finance APIs and many other standards. We are a world leader in financial messaging and financial APIs, and operate across three continents.
LexisNexis® Risk Solutions harnesses the power of data and advanced analytics to provide insights that help businesses and governmental entities reduce risk and improve decisions to benefit people around the globe. We provide data and technology solutions for a wide range of industries including insurance, financial services, healthcare and government. Headquartered in metro Atlanta, Georgia, we have offices throughout the world and are part of RELX (LSE: REL/NYSE: RELX), a global provider of information-based analytics and decision tools for professional and business customers. For more information, please visit www.risk.lexisnexis.com and www.relx.com.
COMMUNITY PARTNERS
EVENT PARTNERSHIP OPPORTUNITIES AND EXPO STANDS
Leave us your email, and we'll contact you shortly!